Used Boats:
65
Adverts Displaying:
1
-
10
PASSENGER VESSELS ALL TYPES - go to > www.horizonship.com 83m ROPAX Passengers and 188 Car Ferry For Sale We are direct to owners who are asking Euro 4.5M POSSIBLE CLASS NOTATION: 100A1 HULL, 100A1 MACHINERY, PASSENGERS RO-RO VESSEL, EU-C IF NECESSARY. CLASS NOTATION CERTIFICATES POSSIBLE TO BE ISSUED BY IACS CLASSIFICATION SOCIETY WITH EXTRA COST. NOW ALL CERTIFICATES HAVE BEEN ISSUED BY MERCHANT HELLENIC INSPECTORATE. GREEK FLAG. WATERTIGHT SUBDIVISION: 2 COMPARTMENTS. FULL LENGTH DOUBLE BOTTOM: NO (COLLITION WATERTIGHT FOR BOW AND STERN, BOTH ENGINE ROOMS). BOTH RAMP...
read more
Year:
2005
Length:
83m
Location:
Greece
Price:
€4,500,000

View Details
TUG BOATS FOR SALE go to > www.horizonship.com New Build, available now $6.5M USD 6 New Builds available Details to fully named buyers only...
read more
Year:
2019
Length:
32m
Location:
USA
Price:
$6,500,000

View Details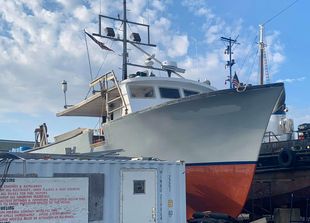 65' DMR Offshore Lobster Boat For Sale 1981 65'x18' DMR Offshore Lobsterboat 3408 CAT 385hp Twin Disc Reverse Gear 30KW John Deere Genset Simrad Auto-Pilot New Koden Radar Furuno Radar 2-VHF's Furuno Sounder Laptop w/ Max Sea Chartplotter New PC w/ Windplot 2-Furuno GPS's Watch Alarm RSW-5 Ton Chiller w/ Aeration 2-Floodable Below Deck Tanks-11,500 Pound Capacity Each Fuel capacity 3000 gals Updated Hydraulics Rebuilt PTO (Off Reverse Gear) Cruise Speed is 8-9 Knots Boat is well maintained by owner $180,000 OFFERS ENCOURAGED...
read more
Year:
1981
Length:
65'
Location:
Massachusetts USA
Price:
$180,000

View Details
105' Crew Boat 1975 - 46 Passengers For Sale Fuel 2650 water 600 46 Passenger I can find you what you are looking for Tommy Benson Horizon Ship Brokers, Inc. (Texas USA) Mobile: 936-689-7189 Skype: tomebenson Email: tommy@horizonship.com Web: www.horizonship.com...
read more
Year:
1975
Length:
105'
Location:
USA
Price:
$560,000

View Details
50' Crew Boat for Sale 46 passenger Main Engines (2) Detroit 12V71N Generator 12kw Very well taken care of crew that has spent it's life running from one bank of the Mississippi River to the other. Vessel has been maintained to very high standards to meet customer criteria to stay on hire since the vessel was built in 1991 I can find you what you are looking for Tommy Benson Horizon Ship Brokers, Inc. (Texas USA) Mobile: 936-689-7189 Skype: tomebenson Email: tommy@horizonship.com Web: www.horizonship.com...
read more
Year:
1991
Length:
50'
Location:
USA
Price:
$170,000

View Details
MORE DREDGERS www.horizonship.com Type: Grab Dredger Built: 1994, Japan; rebuilt: 2006, China Flag: China Navigation Area: Coastal Dims: LOA 49.50 m / Beam 20m / Depth 4.0 m Light draft: 1.2 m Load draft: 2.0 m Crane: SKK-20018GDT.F, Hoisting Load: Main 206 ton, Aux. 31ton Grab: 1* 18 CBM (45T), 1*10 CBM (65T) Generator Sets: 2* CAT-3306 195KW/1500RPM, 2*30KW/1500RPM Delivery: China, promptly Price Idea: USD 4 million. MORE DREDGERS & WORK BARGES FOR SALE - www.HorizonShip.com...
read more
Year:
1994
Length:
49.5m
Location:
USA
Price:
$4,000,000

View Details
292' Geared DP2 ROV MPSV Multi Purpose Support Vessel - 2007 For Sale. The vessel is a 292ft, DP II Class MPSV which includes a 100Te Knuckle Boom Crane, a 113Te Multi-purpose Lifting Tower, 25ft X 23ft (7.6m X 7m) Moonpool, subsea launch and recover winch with 10,000ft of 3" cable, accommodations for 73, and is outfitted with two 150 Hp, 10,000ft Triton® XLS Remotely Operated Vehicles and Hospital. Length Over All (LOA) 292ft (89m) Beam 59ft (18m) LBP 268.7ft (81.9m) DP Class II ( Kongsberg SDP 22 Vessel Speed 10 knots (maximum) Cruising Speed 9.0 Knots Minimum Draft...
read more
The vessels are in good condition ideal for products & chemical transport; they are also built with the requirements of the chemical IMO 2 notation for more sophisticated trade. 1. Oil & Chemical Tanker (SUS 316) 1,400 DWT at 4.2 M draft Ocean Going, Double Double Built 1990 at Japanese shipyard Oil Chemical IMO-II tanker Cargo Tanks: 10 tanks (P& S including 2 slop tanks) Capacity: about 1,300 m3 Cargo tank and manifold: SUS 316 Cargo pumps(gear): 2 x 250 cbm + 1 slop pump Cargo heating via Thermo oil (Coiled SUS 316) Stainless steel cargo lines,...
read more
VESSEL : M/V MONHEGAN OFFICIAL NO. : 279986 We can pay a co-broker 5% of sale. Must register fully named buyer. $200,000. PRICE REDUCTION SEPT 2020 - WAS $850,000. LENGTH : 84.3' BREADTH : 28.0' DEPTH : 9.7' GROSS TONS : 98 NET TONS : 66 PROPULSION : Twin Diesel HORSEPOWER : 360 HP FUEL CAPACITY : 4700 gal. BUILT : 1959/ Port Deposit, MD The Monhegan was built by Wiley Manufacturing, Port Deposit, Maryland and launched as the William S. Silsby in 1959 for the Maine State Ferry Service. She operated between Bass Harbor and Swans Island year round with her ice cla...
read more
Year:
1959
Length:
84'
Location:
Rhode Island USA
Price:
$650,000

View Details
CNG Plant Cost $14 million USD Condition near new Sell $1.5 million USD Assets are near new: • Compressors have on average 100 run hours (of 80,000h life) • And have been well protected: • The environment is for the most part dry and warm • The compressors have been regularly rotated • The mother station systems have been powered and air conditioned since use • Water chiller systems have been treated and pumps rotated • Pipework is under nitrogen blanket (mother) or low pressure gas blanket (daughter) • Status prior to stopping production...
read more
Year:
2018
Length:
500'
Location:
USA
Price:
$1,500,000

View Details